As carpet wears, it can experience lumps and loose areas. These lumps and loose areas though can create hazards in your home or business and take away from the aesthetic of the room.
Carpet stretching helps restore your flooring to its original beauty while keeping the room safe from a trip and fall hazard. Lumps in your carpet do not automatically mean it's time to replace it. Instead, take the time to learn about how stretching can be a cost-effective solution to your carpet needs.
We'll answer some common questions about carpet stretching to provide an in-depth overview of the process and what you can expect.
What is Carpet Re-stretching?
Experts use special tools to pull carpet tightly to make it look great and function well in your home. To do this, experts use a knee kick and power stretcher. 
Once the carpet is tight, we'll trim any excess with a carpet knife. This knife is extremely sharp and designed specifically for trimming carpets. Finally, we reattach the carpet to the tack strip.
Need Carpet Restretching at Home or in the Office?
We know what we are doing.
How to Tell if Your Carpet Needs Stretched
Carpet with visible wrinkles and buckles needs to be stretched. If you leave these wrinkles and buckles, you could tear your carpet or someone could trip and fall on this imperfect area. You also might notice small bumps near your furniture. This can be another sign that it's time for the carpet to be stretched.
Is It Worth Re-stretching Carpet?
Yes, because this service will extend the life of your carpet. Carpet and installation are expensive. Plus, there's the headache of choosing the right carpet for your home. Once you've done that, you want to know that you won't have to do it again for a while.
Hiring a professional to re-stretch carpet is extremely affordable and you won't have to invest in the tools and time to do it yourself. The service doesn't take tons of time but will make your carpet look new again.
What Is the Best Way to Stretch Carpet?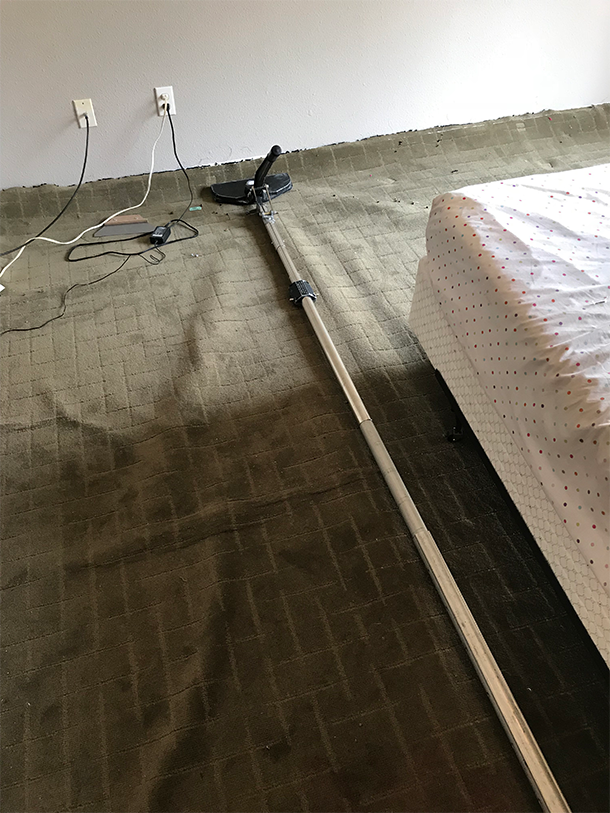 The best way to stretch carpet is to work with an expert. Flooring is an expensive part of your home and stretching can go wrong in a variety of ways, requiring a full new carpet installation.
Additionally, you'll need some expertise to better understand what's happening that's causing the carpet lumps, wrinkles and ripples. Many factors contribute to changes in your carpet. One might be improper installation the first time. Or, humidity in your home might adjust the carpet's size or the adhesive.
One small area loosening from the tack strips could be what left your carpet with loose areas.
Assessing and understanding the cause will help you treat the problem best to ensure the best long-term outcome.
How Can I Re-stretch My Carpet Myself?
If you're planning to stretch carpet on your own, you'll need some specialty tools, including a power carpet stretcher and a carpet cutter.
Before taking on the task, be sure to price out how much it will cost you to round up the necessary tools and equipment to get the job done. Also consider whether you want to have these tools in storage long-term. 
The task will take several hours and if you're not careful, you could end up with more carpet problems than when you started. Because carpet stretching is so affordable, consider hiring experts or at least getting an expert quote before embarking on a do-it-yourself project.
You can learn all about how to restretch carpet to see whether you think you're up for the task.
How Much Does It Cost to Have Your Carpet Stretched?
The cost of having your carpet stretched will depend on how large your rooms are. A Advanced Home Care charges $.75-$.85 per square foot based on the complexity of the room.
Why is my Carpet Buckling?
The reasons for carpet lumps, buckles, wrinkles and more will vary based on your carpet, home and the original installation. Here's a look at some of the sources of carpet issues and what to do about them.
Humidity

: in areas that experience four seasons, changes in the carpet are especially prevalent as the seasons change. Drastic and fast changes can leave moisture in the air, which penetrates your carpets. This leads to carpet swelling. Sometimes, this problem resolves once the humidity returns to normal levels in your home. Other times, it needs to be stretched to fit the space again.

Dragging heavy items across the carpet

: heavy furniture must be fully lifted when moving it. Dragging heavy items across your carpet can mean that you get lumps and buckling in your carpet. You can place items that are too heavy for you to lift off the ground entirely on plywood. Then walk the plywood to the new area slowly. This prevents furniture legs from damaging your carpet during the moving process.

Improper carpet installation

: when carpet installers put in new carpet, they must stretch it tight before placing it in the tack strips. Failing to pull the carpet taut could result in lumps later as the carpet wears in. Good carpet installers stretch carpet during the installation process using a power stretcher. This provides better security that the carpet will stay in place long-term. Another tactic good carpet installers use to prevent buckling after install is to allow the carpet time to acclimate to your home. Warehouses are often different temperatures and moisture levels compared to the average home. So when the carpet enters the home, it needs time to adjust to its new surroundings to prevent issues later. 

Poor underpadding

: if your carpet installers used the wrong padding when installing your carpet, the carpet could buckle. Carpet with too much flexibility due to the wrong padding can leave room for the carpet to stretch. 

Accidents involving moisture

: large spills on your carpet can lead to carpet stretching. Just like moisture in the air affects carpets, so can spilling something on your carpet. Try to sop up and dry out carpets after an accident as quickly as possible. Apply some baking soda to fully pull the moisture out of your carpets.
Why You Should Use A Advanced Home Care for Carpet Stretching
Expertise is so important when evaluating flooring services – whether carpets, rugs, tile or other types of flooring. A Advanced has this expertise and is ready to evaluate your problem and create a solution. 
A Advanced Home Care is Top Rated on HomeAdvisor, won the Best of HomeAdvisor Award in 2019 and has 135 5-star reviews. We're honored to say that 98 percent of our customers would recommend our business to others. 
We know that when you hire our team, you're entrusting your home to us. We don't take that lightly. Our team is careful, attentive and detail-oriented. We'll do the job right the first time so you can get back to enjoying your home.
Book your carpet stretching service on our website today for a price quote and further information.
Hire A Advanced to Restretch Your Carpet