Businesses and landlords that have carpet inside their buildings should consider regular commercial carpet cleaning. Failing to keep your carpets clean and well maintained could lead to a host of liability issues.
From torn carpets to mold and dust mites, the cost of cleaning and repairing carpets is far less than settling a lawsuit. If someone gets hurt on your property due to a foreseeable and preventable accident, you could be left paying their medical bills as well punitive damages.
Dirty carpets can also hide germs that could lead to illnesses. For the safety of your guests, you should hire professional carpet cleaners regularly.
Here's a look at some of the liability dangers that could be lurking in your company's carpet.
Germs Thrive in Dirty Carpets
Commercial carpets that don't get cleaned very often or are cleaned improperly could become the location of bacteria growth. Customers with certain medical conditions are more at risk in areas with dirty, germ-infested carpets.
Asthma is one of the most commonly aggravated conditions that dirty carpets can aggravate. Mycotoxins trigger asthma and are a germ that can thrive in dirty carpets.
These same toxins can also cause stomach illnesses and weaken a person's immune system. With a weakened immune system, a person might experience worse allergies or serious illnesses.
While it might sound crazy, dirty carpets can actually lead to hospitalizations for those with certain conditions. Some healthy people can suffer serious consequences from germs living in commercial carpets.
Another risk of dirty carpets is skin issues. Bacteria and fungus can grow in carpets leading to issues like athlete's foot.
Pet Urine
Pet-friendly businesses face a unique challenge if they have commercial carpets. When an animal urinates on carpet, it's very challenging to get the urine out. This leaves behind allergens and substances that aggravate conditions like asthma and emphysema.
Feline urine has ammonia in it. This is not necessarily toxic to humans, but it can cause some people health issues. And of course, then there's the issue of the smell of animal urine, which you'll want to avoid to keep your business professional and inviting.
Pet urine is a common challenge for landlords. Getting carpets cleaned is crucial to protecting new tenants and avoiding lawsuits.
Carpet Rot Can Lead to Subfloor Rotting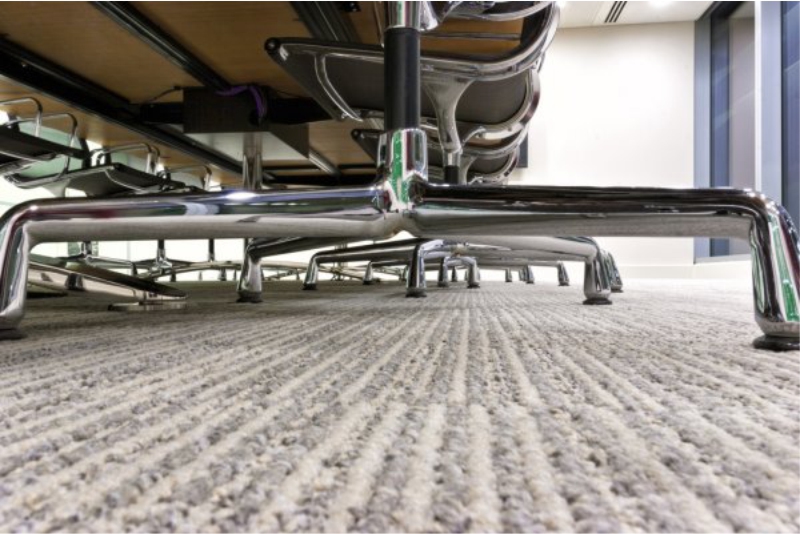 Poor carpet maintenance can lead to carpet rot. While that might not seem like a huge deal, the longer it is left to fester, it can lead to rotting in your subfloors. By the time you find out about this rotting, it could be too late to prevent a severe accident.
Not only will the project to replace all the carpet and subflooring be expensive, but your customers or tenants could suffer severe injuries if the subfloor gives way.
Sometimes carpet rot begins under furniture or in places you don't see every day. That's where having an expert come into your business and assess it can be greatly beneficial.
When carpet cleaners visit your business or commercial property, they can provide an assessment of the status of your carpet and recommend maintenance to avoid having to replace all your carpet or facing serious liability from an accident.
Mold and Dust Mites Live in Unclean Carpets
Moist areas of your business can grow mold if they aren't properly cleaned and dried. This can lead to your employees and customers not feeling well whenever they are in your commercial space.
Mold triggers allergies and can even be fatal for some people. People's pets can also be negatively affected by mold.
Another risk of unkept carpets is dust mites. Dust mites feed off bacterial growth, skin cells and mold living in your dirty carpets. If you keep your carpets clean of these materials, dust mites won't make your commercial carpets their home. But poor cleaning invites them into your commercial space.
The bad news is dust mites can get circulated into the air. Then they enter people's noses, eyes or lungs causing allergic reactions and rashes on the skin.
Risk of Tears in Commercial Carpet
Small tears or lumps in your carpet could also lead to serious liabilities. If a person trips, falls and sustains injuries, you could face hefty settlement fines from a lawsuit. Something as simple as a string from fraying carpet could lead to a customer injury.
During commercial carpet cleaning, your professional team of experts can assess the wellbeing of your carpets. They can recommend carpet repairs in areas that could lead to serious liability.
Carpet experts have an eye for flooring hazards in a way most business owners do not. They can see areas that are wearing thin and could lead to tears or holes that are tripping hazards.
Our team can show you areas to consider replacing in the next six months, a year, or even three years. That can help you with budgeting for your business so you don't face financial surprises.
Benefits of Commercial Carpet Cleaning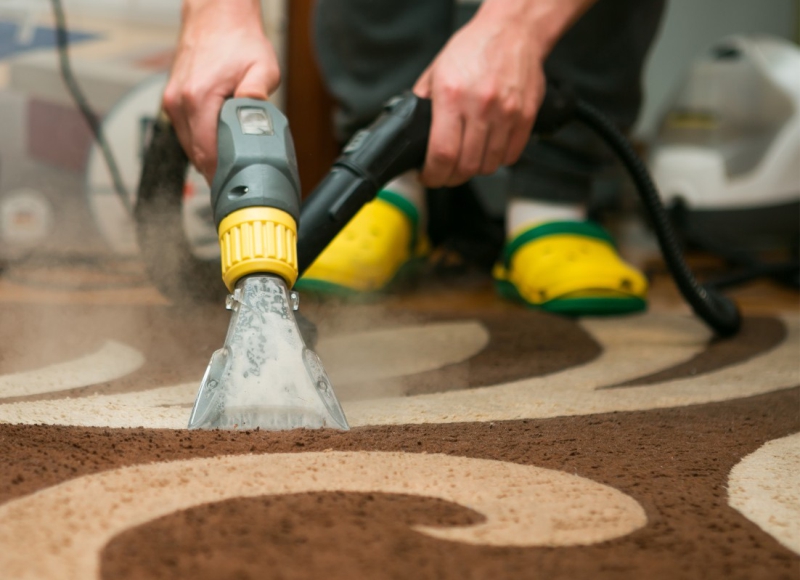 Outside of avoiding liability for your business, professional carpet cleaning also has many benefits that help your business succeed. Here's a look at some of the benefits of commercial carpet cleaning.
Improved employee productivity: when employees work in a well-maintained area, they're more likely to be passionate about coming to work and getting things done. This can increase your employee productivity. By cleaning your business space, you'll show employees the pride you take in your workplace and keeping everyone comfortable. This also builds loyalty among employees and customers.
Gain customers: many people judge a business by its appearance. If a customer walks into your business and sees a dirty mess, they might walk out and go visit your competitors instead. Clean carpets help you put your best foot forward in making a good first impression with your customers.
Preventing carpet damage: dirty carpets have abrasive particles in them. With time, this leads to more wear and tear. Once carpets are damaged, you'll have to replace at least sections of the carpet, which is more expensive than just hiring regular carpet cleaning. Plus, the dirtier your carpets are, the faster they'll lose their vibrant colors and look.
Reduction in employee sick days: when there is mold or bacteria in your company's carpet, it can lead to your employees taking more sick days. They'll suffer from headaches, coughs and more due to the allergens and mold living in your carpet.
Save money: professional carpet cleaning is more cost-effective than purchasing the materials necessary to clean carpets yourself and paying staff to do the work. You'll also need to budget to maintain your carpet cleaning supplies. You can pass on your savings to customers, give employees bonuses or enjoy better profitability this year.
Choosing a Carpet Cleaning Company
To choose the best carpet cleaning company in your area, ask other businesses near you about what company they use. If you're part of the local chamber of commerce, you can get further insights from businesses here as well.
Look up carpet cleaning companies near me and then read the reviews for the companies in your community. Get a few quotes and learn what these experts recommend for a regular cleaning schedule based on the amount of traffic your business gets regularly.
A Advanced Home Care offers an easy-to-use booking system for commercial carpet cleaning services in Everett, Washington. Our booking system also provides an accurate estimate for cleaning your business. But if you have questions, feel free to call our office at 425-355-4810.
Further reading: