Winter can be a beautiful time of year. But with snow and ice comes salt. And when you go outside, that salt gets tracked into your home on the floors and carpet.
What you might not realize is that along with the snow, slush and salt, you might also be tracking bacteria, pesticides and fertilizer into your home. No one wants harsh chemicals and bacteria in their home.
Each flooring type requires a different cleaning treatment during the winter months. Make some minor adjustments to your cleaning routines to ensure you're home stays beautiful. Don't wait until spring cleaning to remove winter stains and germs from your home.
Remove Your Shoes Before Entering
Before we dive too deep into how to clean your floors and carpet during the winter months, it's important to note how helpful removing your shoes can be.
Plan to have slip-on shoes in your garage so you can easily head outside to get the mail without taking one step indoors with shoes on.
Or create a mudroom in your home where you take off your shoes immediately after entering. The investment is worthwhile because even during other times of the year you can track tons of mud and debris into your home if you wear your shoes indoors.
The best way to ensure a total no shoes indoors rule is to set up your home to accommodate this rule. Here are some tips to keep your carpets and floors clean and looking great.
Have a bench or sitting area near the door to put your shoes on before leaving the house. That way you aren't tempted to do so in your living room.
Place a rug near all exterior doors to place shoes when coming inside.
Have easy to slip on shoes for activities like taking out the garbage or checking the mail.
Encourage guests to remove their shoes at the door and set a good example by doing the same. You could even have cute house slippers to share with guests or dollar store socks to make them more comfortable in the winter.
Set up cubbies or storage areas for shoes on the main level so family members don't put their shoes on in their bedrooms before leaving home.
Carpet Cleaning in the Winter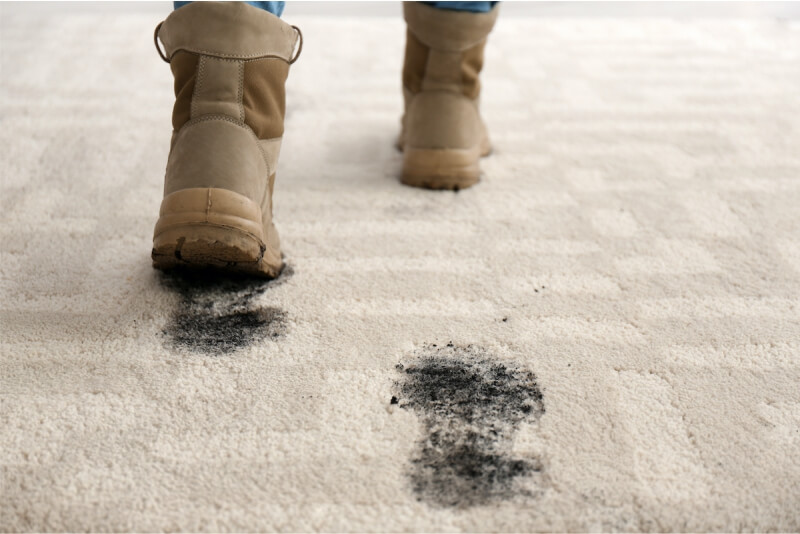 Carpet fibers tend to trap dirt and debris more than other flooring types. If your main living space has a great deal of carpet, consider adding carpet squares or inexpensive rugs in high-traffic areas during the winter.
While it's possible to clean slush, salt and more out of your carpet, you might feel like it's all you do. And even during mild winters in Everett, Washington, you'll still see tons of rain this time of year. Much like slush, rain causes your shoes to pick up additional dirt and bacteria.
Get mats you can easily spray off or clean after the rainy winter and spring days pass in Washington. Your carpet will look even more radiant thanks to your efforts.
While the aesthetics of your home might not be as attractive right now, your carpets will stay in better shape. And you can easily remove the rugs or carpet squares when guests come over. That way, you still get a chance to show off your beautiful carpet.
You'll probably spend more time indoors this time of year. Because of that, it's a good idea to vacuum your carpets twice per week during the winter. Get a vacuum with a HEPA air filter to make sure you aren't reincorporating dust and particles back into the air.
If you do get dirt stains on your carpet, blot the area immediately. Start with a dry towel to remove as much moisture and stain as you can. If that doesn't work, try these carpet cleaning methods.
Get a spray bottle and fill it with warm water. Then add two teaspoons of grease-fighting dish soap. Spray the affected area with the mixture and then blot dry with a dry towel or paper towel.
Instead of dish soap, you can use OxiClean. Just be sure to dilute it as instructed on the container. If it's too powerful, you might harm the colors or fibers of your carpet. Spray the area and blot dry.
Carpet Cleaning for Persistent Stains
Either one of the treatments listed above should remove dirt, mud or salt stains from your carpet this winter. If it doesn't work on the first treatment, treat the area again.
For persistent stains, contact a professional carpet cleaner to get the stain removed. Or discuss the stain with your cleaning team during your regular carpet cleaning. It's a good idea to get carpets cleaned at least annually to protect them and get the most life out of them.
While there are many quality shampooing vacuums on the market today, you might want to avoid doing your own shampooing in the winter. That's because it's challenging to get carpets to fully dry out after shampooing this time of year.
You don't have the advantage of opening the windows to help the process. This means that you could end up with moldy carpets in your home if you try to shampoo the area on your own.
Professional equipment uses far less water and is more effective at extracting the water in the cleaning process. Carpets generally dry within hours to help protect your carpet and underlayment.
Cleaning Hardwood, Laminate and Tile Floors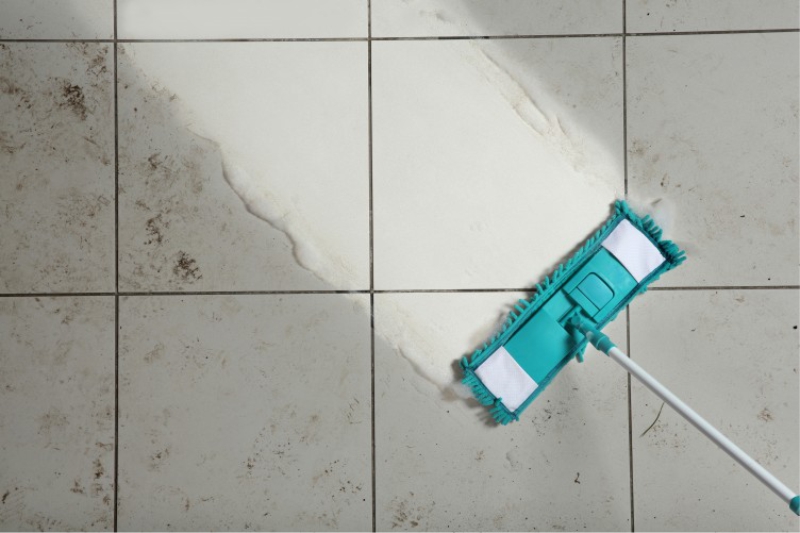 These floor surfaces are more practical for high-traffic areas in your home because the clean-up is extremely simple. You can clean your hardwood, laminate or tile floors with warm water and a little bit of dish soap. Be sure to read information from your floor's manufacturer first to see what they recommend.
To protect your home from harmful bacteria, avoid using a sponge mop. These tend to hold moisture, which invites bacteria growth. Use a microfiber or string mop. Be sure to always wring these out carefully between uses to avoid mold and bacteria growth.
And don't reuse mop water. In fact, if your floors are especially dirty, you might want to change out the water midway through cleaning. This will ensure you don't reincorporate the dirt and bacteria from one area of your home to another.
To kill bacteria on your floors, you can add hydrogen peroxide to water in a spray bottle. Spray the floors liberally and allow them to air dry.
This treatment is especially nice in bathrooms or other moist areas of your home where mold and bacteria might grow. Just be sure that this is a safe treatment for your flooring before doing an entire area.
Winter Home Care in Everett, Washington
A Advanced Home Care provides many services to help you care for your home year-round. From carpet and rug cleaning to adding protective coatings to your carpet and upholstery, we'll be there no matter what the weather is like.
We can repair your existing carpet or flooring or install new carpet and flooring to give your home a fresh look. Book online now to schedule your home cleaning and get an estimate on the service. We make it simple to choose a convenient date and time for you.
Further reading: